What Ruth Bader Ginsburg's Work Means, Mercer Student Reflects
United States Supreme Court Associate Justice Ruth Bader Ginsberg was the first woman in history to lie in state in the U.S. Capitol. This historic honor comes as no surprise to the thousands of Americans who have spent the week paying their respects to the Justice known as an equal rights trailblazer. 
Brooklyn New York born, Ginsberg died September 18, 2020 due to complications of metastatic pancreas cancer, according to the court. She was 87.
Mercer University students like Natalie Yaeger are among the young women remembering both Ginsberg's early work and her accomplishments while on the bench. 
" I would argue that Ginsburg was one of the leading women and people in general who gave a strong voice to gender equality that led to eventual sweeping changes,"  Yaeger said.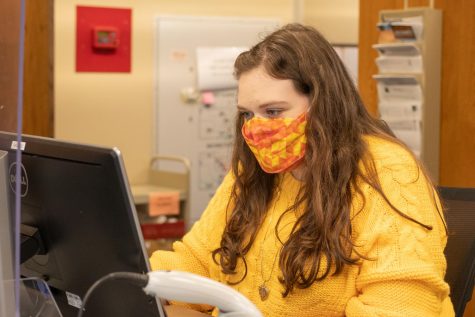 Yaeger points out the fact that Ginsburg fought for what was right for all people regardless of race, socioeconomic status and sexuality. She also recognized that Ginsburg was not the only one fighting for women's rights, but Ginsburg laid the groundwork for accomplishments often taken for granted today. 
"She allowed a way for women to have a credit card in their own name, have their own credit history, lease an apartment, buy property, consent to have medical treatment without a man signing off, or even playing a sport in school. Being a trailblazer for women's rights is one thing, yet RBG quite literally changed the fabric of history for women, allowing us to live in a world where we are so much more than just a pretty face or a part of a man's life and legacy". 
Yaeger is a junior on the pre-medical track. She is a neuroscience and english major with minors in chemistry and Spanish. She points to other significant  work of Ginsburg including addressing discriminatory practices against women who wanted to pursue careers in field like the military.
Yeager said she can see how her own future can be impacted without fighters for justice.  
 "Working to pursue a medical career as well, I see outright the hurdles women, minorities, disability students, and low-income individuals have to jump over to accomplish their dreams. RBG's work for equal pay, equal representation, and equal justice has quite literally changed the way the world views women's abilities and rights." 
Over the years, whether winning or losing, the Court's feisty, liberal minority leader's strong voice for women's reproductive rights gained her many fans. 
Ginsburg found herself in popular culture with the nicknamed Notorious RGB which was a take off from the also Brooklyn born native, late rapper, Notorious B.I.G.
Ginsburg reported in an interview with Katie Couric she liked the name, which took off in 2014 after the 5-4 court ruling over  the hard fought Hobby Lobby case denying contraceptive insurance coverage to employees. 
Before she was nominated to the court by President Bill Clinton in 1993, Ginsberg was personally affected by workforce inequality. She was qualified but not hired for jobs because she was a woman and a mother. When she finally did get to work, she was paid less. While at Rutgers Law School, she joined an equal pay campaign. 
According to the ACLU, American Civil Liberties Union, Ginsburg was the co-founder of the Women's Rights Project in 1972.
She is quoted as having said, "Women's rights are an essential part of the overall human rights agenda, trained on the equal dignity and ability to live in freedom all people should enjoy."
The ACLU said even when Ginsberg left to serve as a Federal judge, her ACLU work lead to the organization's involvement in  about two-thirds of the gender discrimination cases heard by the Supreme Court between 1969 and 1980.
For Natalie Yeager, Ginsburg's work in the area of disabilities is personal.  She deals with her own medical diagnoses of depression, anxiety and panic disorder. 
"One of my personal favorite things that few people know about is Ginsburg's work for equality for people with disabilities. She was one of the first on the Supreme Court to state that people with mental disabilities need to be allowed to live in communities rather than just in institutions," Yaeger said.
NatalieYaeger said she doesn't just adminre RGB's work, but set out to shine the spotlight on important issues on campus and in the community. She works with Mercer organizations like: MerServe, SGA, the Equal Justice Book Club and Political Action Wednesdays. 
"When I think about myself personally as a low-income student with disabilities but also as a woman, I see how grateful I am to have benefited from RBG's work and service." 
Ruth Bader Ginsburg was the second woman to serve in the U.S. The Supreme Court. From 2004 through 2011, Ginsburg was named one of Forbes Magazine's 100 Most Powerful Women.
Ruth Bader Ginsburg will be buried at Arlington Cemetery, alongside her husband Martin Ginsburg on Tuesday, September 29th.