Mercer University Marching for Equal Justice
Mercer students, faculty and staff made up the nearly 400 participants in the University's first Equal Justice March and Vigil held Friday. It was a silent march that sent a message calling for equal justice for all and an end to systemic racism.  
Under the blaze of the afternoon sun, a diverse group of people circled the campus. Participants included various athletic teams, student organizations, professors, staff and others. 
The peaceful protest traveled around school grounds. Many participants carried handwritten signs expressing messages of unity, anti-racism and ending discrimination of all kinds.  This included a student painting of Breonna Taylor. 
All participants were required to wear masks during the march. The crowd circled around the campus and was visible to traffic on College Street and Coleman Avenue. The march ended with the vigil at Willingham Auditorium. 
The unifying vigil messages were expressed from departments across the campus including law enforcement, education, athletics, health and service.  Students also received a contact list of state, regional and national organizations, and were encouraged to get involved in some way.      
Mercer's Social Justice Book Club and Friends sponsored the event. Dr. Ansley Booker, director of Diversity and Inclusion Initiatives, says this was the first official campus march for social justice, but not the first time this type of protest has occurred on campus.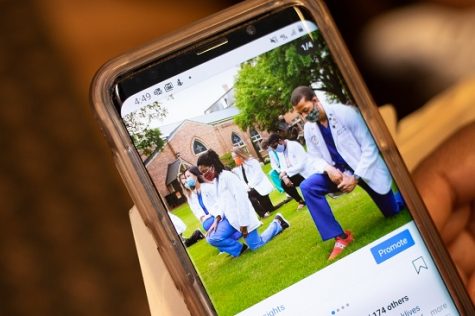 Earlier in the summer, about 70 members of Mercer's medical staff took a knee for what was called "White coats for Black Lives."
Booker says there will be more organized opportunities for the campus community to address issues of social change and racial healing. Among  other scheduled events in the Fall include: "Race in the Dark" and "Bearable Conversations."