Navicent's new COVID-19 testing machine makes 'significant impact' in fighting virus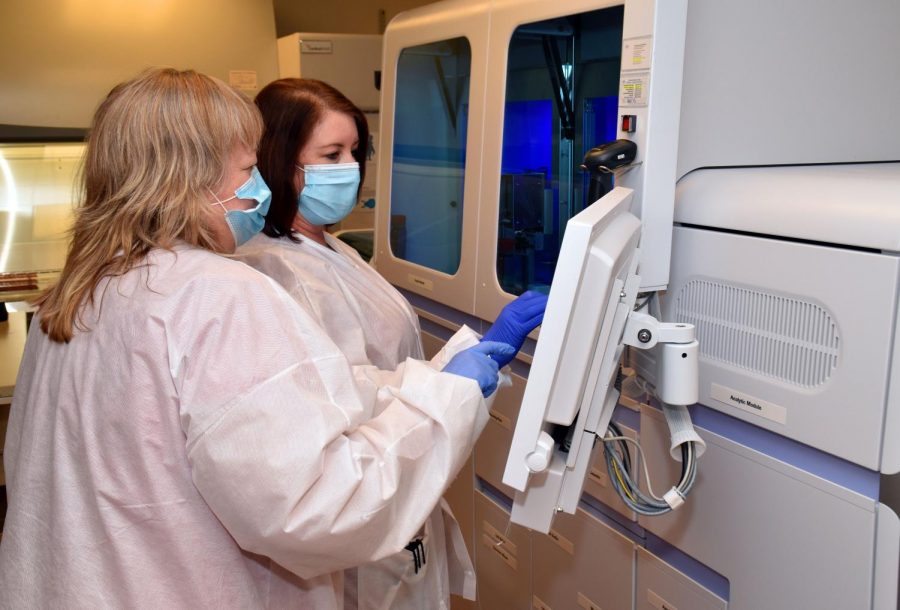 As the world fights a pandemic, Medical Center, Navicent Health, has acquired a coveted testing machine.
Dr. Gene Battles, a pathologist at the downtown hospital, was told only two Roche Cobas 6800 molecular analyzers rolled off the assembly line last month in Basel, Switzerland. Navicent qualified for one of them based on the testing needs of the region.
"We feel very fortunate everything could be pulled together to bring this to fruition," Battles said Tuesday.
Securing the instrument, which was put in operation this week, was a goal for Navicent CEO Ninfa Saunders when the health system first started battling COVID-19.
During last month's Navicent Health Board Meeting, Saunders said diagnosing COVID-19 was the biggest challenge they initially faced with "Persons Under Investigation," or PUI, awaiting results.
"It was taking 7 to 12 days to have the results, so therefore we had a lot of patients we considered PUI," Saunders told the board.
The testing backlog created a bottleneck of people waiting for results as more were tested, swamping existing labs and causing further delays.
To speed up the process, Navicent enlisted Angel Flight Soars pilots who flew samples to laboratories in Charlotte, N.C., and Nashville, Tenn., beginning in April.
At about the same time, Roche was looking to fill the gaps in testing by marketing machines where they were needed.
Emily Ryan, a clinical scientific leader with Navicent's laboratory administration, said the process of acquiring the machine also began in April.
"Roche looked at various parts of the U.S. and globally where there was a lack of testing and where they could partner with current or already established relationships," Ryan said. "In the Southeast, they approached us with the possibility of purchasing this instrument."
Navicent's relationship with Atrium Health resulted in a discounted price of about $350,000 for the machine which can test more than 1,500 samples in 24 hours, according to the Roche website.
"It will bring our capability with some of the rapid platforms we have in house for testing to 1,200 a day," Ryan said.
Michael Hajworonsky, vice president of diagnostic services at Navicent Health, said half of the hospital's testing has been sent to outside labs.
"One of the things the Roche allows us to do now is not send out anything to commercial labs. … That will be completely eliminated. So we're going to go from a 24- to 48-hour turnaround time to less than that. So, it's going to make a significant impact across the board for all testing for COVID-19."
Over the past two months, Navicent was shipping out specimens to other Roche testing machines similar to the one they now have in house.  Atrium has the "big brother" Roche Cobas 8800, due to their greater need and volume, Battles said.
"It's a well-proven platform with a low detection rate," he said.
In other words, the Roche Cobas 6800 is particularly good at screening people with little or no symptoms, he said.
"It's not ideal for rapid symptomatic testing of people showing up in the emergency room trying to rule in and rule out COVID testing versus flu," Ryan said.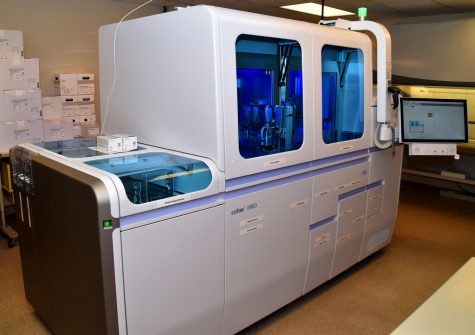 Navicent has converted a storage area to a diagnostic testing center with the new large machine as its centerpiece.
"It is a magnificent instrument," Battles said. "It is modern and sleek and has LED lighting. I mean, it looks like a laboratory beast. It's very impressive."
The new equipment complements the hospital's existing Cepheid GeneXpert and BioFire FilmArray Torch testing machines that have a turnaround time of about an hour, which speeds up patient isolation for those who are positive.
The acquisition of the Roche machine will enable the hospital to test medical staff, those having elective surgeries and others in the community who need to be screened to return to work.
Saunders told the board there have been challenging times trying to get timely results such as when migrant workers were tested before reporting to their jobs.
"It's really important for us to do testing with speedy results," Saunders told the board last month. "This is coming to fruition. We're excited."
This week, the hospital began with single runs of multiple nasal swab samples each day but expects to increase to two runs daily, Battles said.
"It takes about 3 to 4 hours to process but we're going to collect up to the 94 samples. We want to batch the samples," he said. "So we'll batch the 94 samples and run them twice a day."
It's more cost-effective to run larger quantities, but the hospital is currently limited to 192 test reagents per day. More could be available, if needed, Ryan said.
"Allotment changes weekly based on clinical need and other area hotspots," she said.
Navicent Health's laboratory receives specimens from doctors and clinics all across central and south Georgia, which includes hospitals in Peach, Baldwin, Monroe and Putnam counties.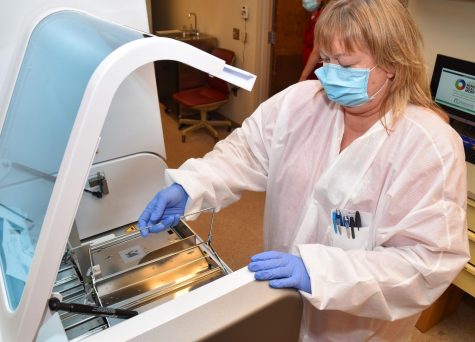 Hajworonsky said Navicent's struggles with testing capacity are over.
"Now that we have this technology and opportunity, we're going to look at how we can better deploy that throughout our community," Hajworonsky said.
Navicent hopes to be able to limit the spread of the new coronavirus by providing testing for private companies wanting to test asymptomatic employees before allowing them back to work.
The hospital also tests for COVID-19 antibodies on an Abbott ARCHITECT machine, which has a higher reliability rate than smaller desktop models often used with drive-up testing, Battles said. It has yet to be proven whether people with antibodies are immune from a second infection or if they can still spread the virus.
"Really, we're able to offer the full gamut of COVID testing, including the viral testing and the antibody testing, so we feel very fortunate to be able to support the health system by being able to provide those two tests," Battles said.
If we ever get to a post-COVID-19 world, Battles said the instrument can be used for a variety of women's health and STD testing.
"This could increase our capacity to do this in the future," he said. "It's a great instrument to serve as a strong foundation for all types of molecular testing on the infectious disease side."
Contact Civic Reporting Senior Fellow Liz Jarvis Fabian at 478-301-2976 or [email protected]