15 Quick And Easy Recipes To Help The Quarantine Blues
Breakfast:
1. Breakfast Quesadillas by @saucedupfoods on TikTok
https://vm.tiktok.com/789Ms6/
Here's the deal: You need to be eating breakfast. Here's the problem: Breakfast sucks. Right? Wrong. Your breakfast game needs help and this recipe is here to save it.
This quesadilla is just the beginning. Don't like bacon? Try turkey sausage or a veggie substitute. Don't like the spice of salsa? Get some pico from Walmart that fits your needs. Add olives, just to see what would happen. Try your hand at making your own quesadillas for the recipe. The possibilities are endless.
2. Potato Breakfast Recipe from @aristern3 on TikTok
https://vm.tiktok.com/78mWm4/
I promise I won't be putting overnight oats on this list. Everyone is sick of it. I can't, however, promise to find a way to avoid putting eggs. But that's okay because this recipe can give you a chance to cook your eggs exactly how you want while still jazzing up your breakfast game.
3. Old School Pancakes by @flakeysalt on TikTok
https://vm.tiktok.com/78jfdM/
There's actually no shame in buying your pancake mix from the store. However, this recipe made me realize that it is so wildly easy to make pancakes in the first place that you probably already have the ingredients in your kitchen.
If you really want to have a good time, pick up some whipping cream from the store and whip it up with some almond flavoring and plenty of sugar. Add that to the top of your pancakes with some strawberries for a breakfast you can lie to your kids and call a "secret family recipe". I won't tell.
4. Yogurt Parfaits from @sulheejessica on TikTok
https://vm.tiktok.com/78Psyv/
This simple recipe is for those of us who don't have the energy to cook. I ate yogurt parfaits pretty much every morning last semester and have no regrets. But, the real cure for your quarantine stressors can be found scrolling through this specific TikTok account and watching as this parent lovingly makes lunch for her kids every day. I have cried watching her videos and I will cry watching them again.
5. French Toast from @whitneynrife on TikTok
https://vm.tiktok.com/78kYDE/
I used to think I hated french toast but it turned out that I actually just hated other people making it for me. Take control of your french toast experience and remember nobody can judge how much cinnamon you put on your breakfast if you don't share any with them.
Lunch/Dinner:
6. Mac N Cheese by @..mangos
https://vm.tiktok.com/78jU58/
If you never learned how to make Mac N Cheese this is a good place to start. However, you need to remember that just because some people on TikTok don't season their cheesy mac that doesn't mean you have to do the same. Remember to add garlic and onion powder as well as a little paprika at least if you want this to come out tasting like the classic pasta dish we all love.
7. Jackfruit Tacos by @iamtabithabrown
https://vm.tiktok.com/78BgC8/
I have never tried these in my life, but if you're really down in the dumps and struggling to see the light I urge you to watch some Tabitha Brown videos on TikTok. She makes vegan cooking recipes along with general motivation videos on her channel. She calls herself "the world's favorite mom" and if she wanted to adopt me I would be at her house with papers right now instead of writing this article.
8. Italian Grilled Cheese by @erekasfood
https://vm.tiktok.com/78UAJH/
This one is a little complicated but if you can afford to make a grilled cheese exactly like this then more power to you. If not, don't worry. Instead, go to the Walmart clearance pastry section like the rest of us, get a bag of whatever mozzarella makes you happy, and instead of doing the fancy butter thing try crushing some garlic and cooking it on a low heat for several minutes with whatever butter or butter substitute you have on hand.
9. Basic Chicken Curry Recipe by @itsromina12
https://vm.tiktok.com/78mvxE/
I spent the entire summer in England eating curry on a weekly to biweekly basis. Now, when I think of comfort food I think back to the times when we sat at the table talking about our days. Curry reminds me of feeling safe and at home. Go ahead. Make some curry. You'll feel better.
10. Chicken Francois by Clover Valley Cooks
Now I'm going to go ahead and admit it. I was there when this meal was made. I am completely biased. As soon as I got home from spring break, I had a friend over and made it on my own, this time without mushrooms. My friend is one of the pickiest eaters I've met in my entire life. They went back for seconds. Do yourself a favor, make some Chicken Francaise. Then make it again.
Dessert:
11. Adam Ragusea's Strawberry's with Pound Cake and Vanilla Cream
Finally, the thing everyone actually wants and deserves in these trying times: Dessert.
Did you know that this former professor at Mercer University has a Youtube channel? While many students were missing seeing their favorite journalism professor in class, we were busy making this super simple recipe from his channel. With the Macon strawberry farms still open, you can still get your fruits fresh without even going into Walmart or getting very close to another person. My only suggestion? Up the amount of sugar in the whipped cream if you've got a sweet tooth.
12. Ree Drummond's Raspberry Lemonade Freezer Pie
Freezer pies are the easiest recipes in the history of food. If you aren't a fan of raspberries, try some strawberries instead. You could replace any of these with a red fruit and get a lovely result. If you want more lemon, blend lemon cookies for the crust.
13. Rice Kheer by Ruchi Bharani
If you're like my family, you always have several boxes of rice stashed away in the pantry. Why not go ahead and use some to make a sweet treat? The great thing about rice pudding is that there are so many different recipes that you can inevitably find one to call your favorite.
14. Tasty's Chocolate Chip Cookie Recipe
These are a wonderful basis for you to make whatever cookie suits your fancy. Personally, I would add in some oats if I was making these in order to make the cookies a little less like Tollhouse cookies and a little more like Chick-fil-A's.
15. 1-Minute-Mug Cake Recipe by Spice Bangla
When all else fails, go ahead and make a mug cake. You deserve it. Put some whipped cream on top if you're missing the icing or even scoop on some vanilla ice cream with cinnamon sugar on top if you want to get really fancy. To go the extra mile, take a chocolate truffle and place it in the center of the mug cake before you microwave to get a lava cake type of effect.
There are plenty of foods that you can make to help feel a little better in this stressful time. In an era filled with dieting fads, remember that there is no shame in comfort eating. Go make that mug cake.
About the Writer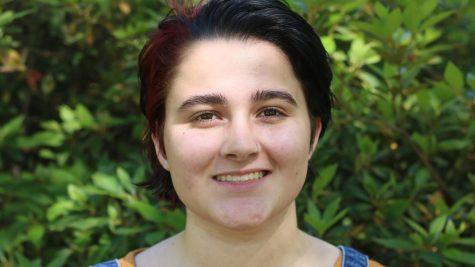 Angel Colquitt,
Angel Colquitt is a senior Journalism major with a minor in Southern Studies. They are from Macon and currently attending Mercer University. After graduating,...