Taking care of business amid COVID-19 closures in Macon
Normally on the fourth Thursday of the month, dozens of Macon leaders gather for lunch and an update on local business from Greater Macon Chamber of Commerce.
The chamber might not be hosting the typical gathering during the COVID-19 pandemic right now, but its work goes on.
The executive committee continues to meet virtually and President Yvonne Williams regularly talks with local and state leaders and Georgia's U.S. senators about programs needed to help rebuild the economy.
"She has, of course, been talking locally with the mayor and the local foundations on ways to implement a county-wide plan," emailed Laura McMaster, the chamber's vice president of sales and marketing.
Through Friday, the chamber also is surveying its members to grasp the full impact that closures, uncertainty, supply issues and social distancing have had on business.
Members also are getting calls and emails with information about Small Business Administration loans related to the effects of the virus and special tax credits available from the Internal Revenue Service.
The chamber's website also shares a request from HCA South Atlantic, the parent company of Macon's Coliseum Medical Centers and Northside Hospital, to buy cleaning supplies, hand sanitizer, masks and toilet paper from hotels and restaurants that might have stockpiles that are not needed while those businesses are curtailed.
The campaign, titled "Everything starts @Home, help our Macon emergency," also encourages online sales and pickup service from local restaurants.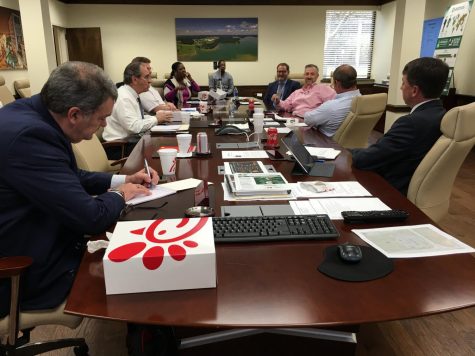 Boxes of Chick-fil-A lunches were on the table the last time the Macon-Bibb County Industrial Authority met face-to-face March 18.
The authority was able to limit attendance to its Properties Committee to under 10 people.  Members spread out around the vast conference table to distance themselves from one another.
Marketing manager Dan Hall sat near the wall with his cellphone on a tripod to broadcast the proceedings live on Facebook.
The meeting began with attorney Kevin Brown reading the directives for social distancing coming from President Trump and Governor Kemp.
"We asked everybody if they have traveled," Brown said after the meeting. "Even though we think we know each other well, but we don't know everyone in their household."
The authority voted to renew the lease for Cumulus Media's tower at the Allied Industrial Park and went into executive session to discuss real estate transactions for "Project Boost."
During negotiations, the authority assigns a code name to projects to maintain confidentiality.
Once back in open session, board members approved selling 21.38 acres on Frank Amerson Parkway, just north of Tyson Foods in the Interstate 75 Office Park on the south side of the county.
The land, just south of the Fed Ex Ground location, will be sold to the owners of Middle Georgia Freightliner for $54,000 an acre for a total of just over $1.1 million dollars.
The sale, which is set to close at the end of the month, is expected to involve a new sales location for the family-owned business that operates two locations on Hawkinsville Road.
A phone message inquiring about plans for the property, which was left for a manager of Middle Georgia Freightliner, was not immediately returned.
Although the authority is limiting in-person contact, much of its work continues on the telephone and by email.
Not only does the agency recruit new industry to Middle Georgia but keeps in close contact with existing industries.
"We're making every effort to make sure they're getting verified and factual information from the CDC and Department of Public Health," said Stephan Adams, executive director for the authority.
With the shortage of toilet paper on store shelves, Adams noted how fortunate Macon is to have industries like Irving Tissue, which is doubling its initial capacity to manufacture paper towels and toilet tissue in the Sofkee Industrial Park off Ga. 247.
"In times like these, you recognize the international city that Macon is because we have products that are made here and packaged and shipped all over the world," Adams said.
As the meeting adjourned, board chairman Robby Fountain wanted the public to know that even under these circumstances, it's still business as usual.
"We will continue to take precautionary measures, but let's do the people's business," Fountain said after adjourning the meeting. "Make sure that this community knows that we're still doing the people's business."
Contact Civic Reporting Senior Fellow Liz Fabian at 478-301-2976 or [email protected].