Luxury downtown condos, Sonny's BBQ, assisted living memory care facility seek P&Z approval
A half-dozen new luxury condominiums will soon be going up at the corner of Plum and Third streets as part of the planned expansion of Spa Medical and Vein Specialists of the South.
The Macon-Bibb County Planning and Zoning Commission is expected to give final approval for the addition at its Monday meeting.
"We're excited about it," said Phillips Jones, CEO of Vein Specialists of the South. "One of the units is already presold."
Construction is about to begin and the condos should be ready by summer, Jones said.
Listing prices range from $379,000 to $499,000, according to the Fickling & Company website that boasts the "top-notch condos" will have "trendy finishes and great ambience."
Each of the six two-bedroom units will have a small foyer, balcony and garage.
In August of 2018, Dr. Ken Harper's Napa Investments LLC bought the building at 598 Third St. from Commercial Furnishings, which occupied the space after purchasing it from the Medical Center of Central Georgia in 2010.
The pending project in the former home of A.S Hatcher Marine initially was approved about a year ago but the design was revised in recent months.
In 2002, Harper bought the building next door at 556 Third St. for his medical practice. A few years later, his wife, Terri, founded Spa Medical and still serves as its clinical director.
The Harpers also currently lease 8 Napa Lofts apartments on the upper floor.
Spa Medical's move to about 7,000 sq. ft. in the corner building will more than double its space and allow Vein Specialists to move its lymphedema treatment area into Spa Medical's current location.
"Depending on the interior design of Spa Medical, we hope to open it by the end of 2020 or early 2021," Jones said.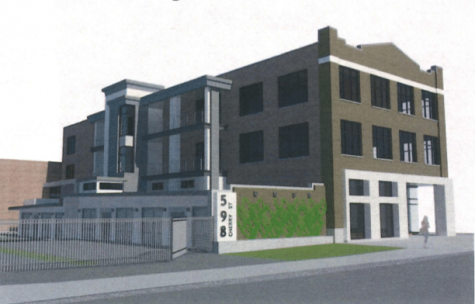 Solar panels on the roof will provide at least 40 percent of Spa Medical's energy requirements and clients and patients will still enjoy free, off-street parking, he said.
The gated lot will be open during business hours with restricted access at night.
An elevator to the second and third floor one-story condominiums enables handicapped access.
Harper sees the project as providing a way for those who don't want to rent to be close to the new amenities in downtown where restaurants, businesses and retailers are enjoying a resurgence.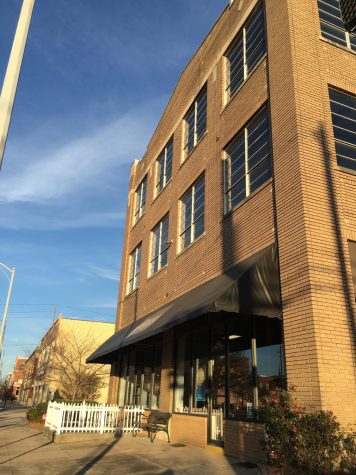 "We think this is the ideal locale for that because you're just a couple of blocks away," Harper said. "Right now, it's the quieter side of downtown."
He envisions condo owners walking to church or dinner and enjoying peaceful evening strolls back home.
"People are selling their houses and moving downtown," Harper said.
Jones expects the property to draw people of all ages "just like any urban core."
Harper, who has always appreciated the older buildings available downtown, feels investing in the heart of the city lifts the whole community with additional tax revenue and quality of life.
"When you look at cities in the South that have been successful… it's basically on the back of downtown redevelopment," he said.
New BBQ restaurant for northwest Macon
Sonny's BBQ could be putting up a brand-new restaurant and hiring 30 employees on Zebulon Road in northwest Macon.
The 4,700 sq. ft. building would sit west of Bass Road on an outparcel of the Lofts at Zebulon if the conditional use of the property is approved at Monday's meeting of the Macon-Bibb Planning and Zoning Commission.

The family-style, sit-down restaurant could accommodate 200 diners with 170 seats inside and 30 in an outdoor, covered patio. A pick-up window also is planned but the menu order board will be at the back of the building and will not be seen from the road.
According to the Planned Development Zoning for the Lofts project, no fast food establishments, tire stores, car washes, lube centers or auto parts stores can be built on those out parcels.
The 241 lofts at 5801 Zebulon Road are fully leased, according to the application, and Sonny's BBQ is consistent with the developer's original intent for the project.
Assisted living, memory care development seeks rezoning
Developers want to rezone property adjacent to Wesleyan Hills Subdivision to build a mixed-use assisted living development.
Braemar Partners LLC wants to use nearly 10 acres at 5171 Bowman Road for the development that will include a 60,000 sq. ft.  assisted living/memory care facility and future professional or medical offices on two outparcels northwest of Wesleyan Drive.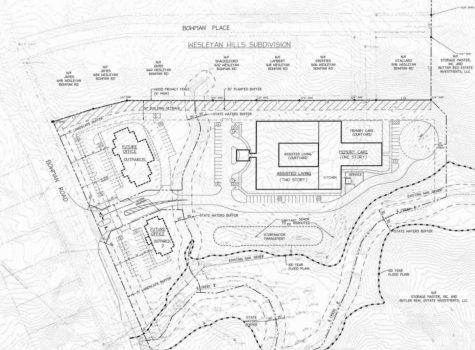 The land is currently zoned as a single-family residential district but would need to be designated as a planned development district for the project to proceed.
The 82-unit building will be "residential in style" with brick and stone veneer and cement board exterior and asphalt shingles on a pitched roof, according to the application.
The assisted living U-shaped wing will be two stories with an interior courtyard. The T-shaped, one-story memory care facility will be one story with a separate courtyard, if the rezoning is approved.
The Macon-Bibb County Planning and Zoning Commission will hold hearings beginning at 1:30 p.m. Monday in its conference room in Suite 300 of Terminal Station at 200 Cherry St.
Contact Civic Reporting Senior Fellow Liz Fabian at [email protected] or phone 478-301-2976.