Lynching memorial, bus, statue discussed for Macon's Rosa Parks Square
Sprucing up Rosa Parks Square has been talked about for years but the quest has begun in earnest now that the Friends of Rosa Parks Square Commission officially convened Tuesday.
One of the priorities of the commission is to raise funds to enhance the square.
A few years ago, a public input meeting resulted in a $2.5 million redesign of the park which currently houses multiple historic monuments and markers. It is believed the project will now cost closer to $3 million to commission a Rosa Parks statue and bring in established trees to create a canopied walkway.
"We can do it for less if we remove some elements," said commission member Alex Morrison, who also heads the Macon-Bibb County Urban Development Authority.
The proposed design calls for an oval walkway, shaded trellis and stage across from the Government Center to form a natural gathering spot for protests or celebrations, Morrison said.
The statue of the civil rights icon who refused to give up her seat to a white man on a Montgomery, Ala., public bus would be the focal point of the property looking down from Cotton Avenue.
Commission members also discussed creating a lynching memorial, which had been previously discussed in recent years during Tattnall Square Park renovations but could be more appropriate for Rosa Parks Square, they said. They also discussed having some sort of bus replica for children to explore in the park.
Initially, the park improvements were expected to be funded through Special Purpose Local Option Sales Tax collections, but they were never officially added to the project list.
"One of the things about the SPLOST, it has a lot of room for gray areas," commission member George Fadil Muhammed said. "(Rosa Parks Square) should be a priority."
Commission members will consult with SPLOST project manager Clay Murphey to determine if there are any funds remaining from other local park renovations that could be funneled to the square.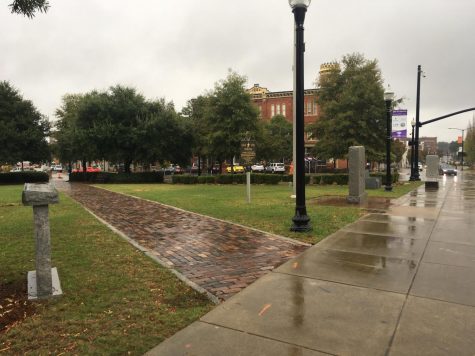 Next week, the Macon-Bibb Commission will hear the first reading of Commissioner Elaine Lucas' plan to use $900,000 in proceeds from the sale of the Willie Hill Annex building for the nearby park.
A boutique Marriott Tribute hotel is being built in the old city office building across from the Macon City Auditorium.
The funding proposal for the square will be voted on in the Nov. 12 commission meeting.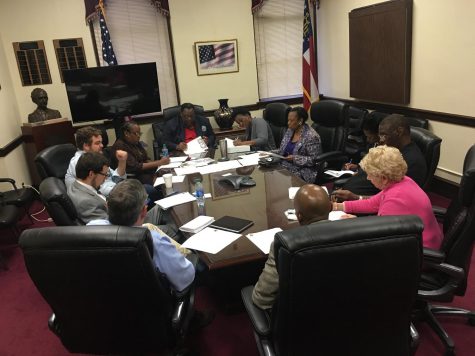 The Friends of Rosa Parks Square Commission sputtered a bit getting started when initially not enough members were in attendance to hold the meeting.
"I can't believe we don't have a quorum," Macon-Bibb County Mayor Pro Tempore Al Tillman said.
In February, the Macon-Bibb County Commission approved creating a 12-member commission to oversee the redesign and operation of the park directly across from Government Center at the corner of First and Poplar streets.
Only 10 members have been appointed, so far, and a couple of them were out of town so it took about 30 minutes to get the required number of attendees to the table for a quorum to conduct business.
Members elected Nancy Cleveland to chair the commission with George Fadil Muhammed serving as vice chairman.
Tillman plans to add two more members to complete the dozen slots before the group meets again Nov. 14 at 4 p.m. They will continue monthly meetings on the second Thursday of the month.
Contact Civic Reporting Senior Fellow Liz Fabian at [email protected] or phone 478-301-2976.