The park rangers behind Ocmulgee Mounds National Historical Park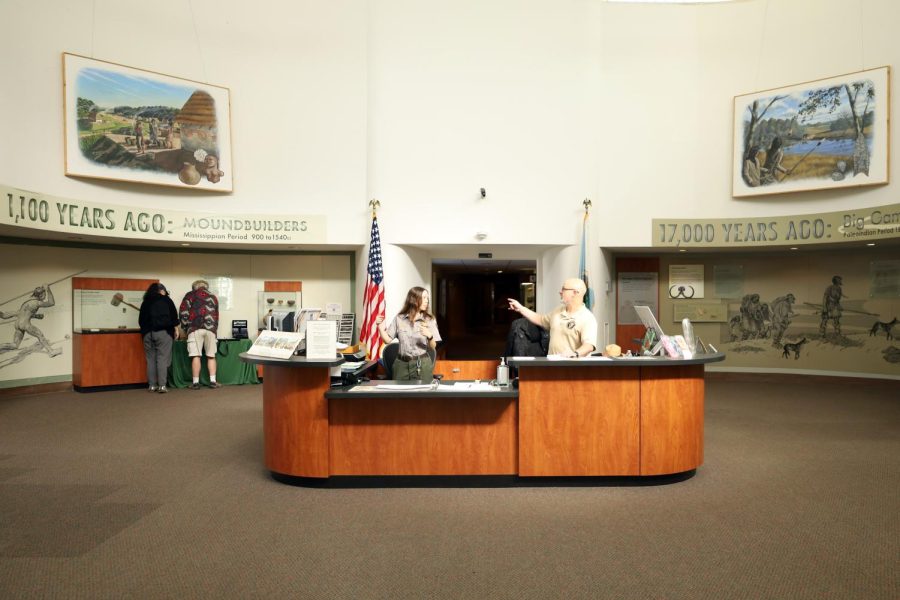 As there is the continuing push for Ocmulgee Mounds National Historical Park to become the first National Park in Georgia, two National Park Service rangers explain why their job is important to them.
Andrea Martinson and Caroline Holmes are both interpretive park rangers. They engage with the public, help run field trips, guide hikes, do park programming, and help educate visitors on the history of the park. 
Martinson, from Ohio, grew up visiting National Parks growing up on family vacations, where she said she first fell in love with the Park Service and nature. In 2017, she started working for the National Park Service in parks all across the country. She got to Ocmulgee in the fall of 2020. 
Moving to Macon during the covid-19 pandemic, the park visitor center was still closed, but a socially distanced pop-up tent was available to give out brochures to visitors of the park, Martinson said.
"It was a very interesting way to start," she said. "And then it's been really cool as we slowly readjusted back to normal operations."
One thing that makes Ocmulgee different than the other parks Martinson has worked is the fact that this is a cultural history park. 
"Being in a spot that has such a vast timeline of human history, and being able to share those different cultures with the visitor, and then also emphasize to them how this isn't just 1000s of years ago, history, but this is still present day because the descendants are still here, still alive in the country," Martinson said. "So being able to, again, kind of tie the history to the present day into the future is really, really amazing opportunity that I definitely don't take for granted."
A big part of the park's normal operations includes hosting schools for field trips, which can lead to busy weeks, especially in the spring. Martinson said that many schools are from the Macon and Middle Georgia Region, but they also have schools visiting from across the state. 
"I love being able to again, just learn more about the natural and cultural history of a spot and then share the information with others," Martinson said. "And as an interpretive ranger, my job is to kind of connect the visitor to the park in a very special and personal way for them."
With school field trips, park rangers help educate students on the cultural significance and history of the park. 
"We are very excited whenever we get to have school field trips out here, because again, there's so much cultural history here," Martinson said. "And it's so important for kids to understand the depth of that history."
The education piece is important to Martinson because of the importance of sharing Native American history. 
"And again, just realizing, oh, Native American history isn't all in the past. It's still alive and thriving today. And so that's something that's really important that I know, I didn't get in my education growing up. And so being able to do that for the kids here, is really important," she said.
Field trips are typically between elementary and middle school-aged classrooms where classes get to explore museum exhibits, talk with rangers, and also explore the park grounds, such as inside the Earth Lodge and on top of the Great Temple Mound. 
"It's really cool, because a lot of people come here as a field trip [as] school kids, and then come back decades later, and say, 'I remember this field trip here, and I'm bringing my kids now.' And so it's definitely kind of that legacy effect, which is really cool here," she said. 
Martinson said she loves being able to share not only knowledge of the park, but enthusiasm as well. 
"I love it when you get to have that aha-like spark in them where it's like, oh, this is so cool," she said. "So just kind of sharing that enthusiasm and excitement for a park is really exciting when you get to see that kind of come alive in a visitor as well."
The cultural significance of the park runs deep, and Martinson along with other park rangers get to connect with the tribes who are connected to this land. She has been excited to learn about the cultural history and connect with the tribes associated with the park. 
"Being able to show that to visitors and kind of make people understand just the vast scope of such an important cultural history site is a really, really cool opportunity," she said. 
For Caroline Holmes, this is the second park she's worked at for the National Park Service. She's from Tulsa, Oklahoma, and has always been drawn to this park because of this land is the ancestral homeland to the Muscogee Creek Nation, whose land is also part of Tulsa, OK. 
"I wanted to come here and kind of learn a little bit more of the backstory of you know, basically my neighbors from growing up," Holmes said. 
Like Martinson, Holmes is an interpretive ranger who also helps groups of visitors that come in to the park. 
"I think my favorite part is the programming, going out to talk to people, kind of bringing new ideas to people as they come to these national park sites," Holmes said.
 Holmes also leads programs such as the meditation program, which is her favorite program she does. 
"Everybody thinks, oh, I'm in a national park site, like, let's go go go do all these active things," Holmes said. "And I think it's really important for all of us to take a moment and appreciate just being in the space. So that's probably one of my favorite programs that I do."
As interpretive park rangers, education is a big part of their roles. 
 "We aren't just covering one time period, we're covering basically the evolution of human history in the southeast," Holmes said.
The park doesn't contain just one time period, and the past and present are connected and alive today. 
"We kind of have that time capsule effect of having such a depth of the history here, because lots of parks tend to focus on one time period or one culture or one person," Martinson said. "But we have such that vast scope here. And again, mentioning that, that's not just stuck in the past, and it's still going to be active today. We're still a growing thriving Park, and there's a lot of potential for growth in the future as well. So that's something that's really important for people to understand."
Holmes has many goals for education at the park. 
"My goals are just to provide a basically a fun educational experience for visitors," Holmes said. "I want them to enjoy the park but I also want them to leave have leave having learned something new, either about themselves or about the history of the park or the history of the United States in general."