Who is Housing Insecure in Macon?
Allen Camp was homeless in Centerville but moved to Macon as he heard there were more resources. He spent six months living in abandoned houses and in the rough but recently moved into his own place.
He is one of the success stories as he used a local homeless resource center to help with getting back on his feet.
Adrienne Lewis works with Macon's homeless and says any situation can put people in a housing insecure situation.
"Homelessness is a public health crisis," said Lewis, who is a caseworker at Daybreak, a day resource center that provides Macon's homeless and housing insecure population with critical services.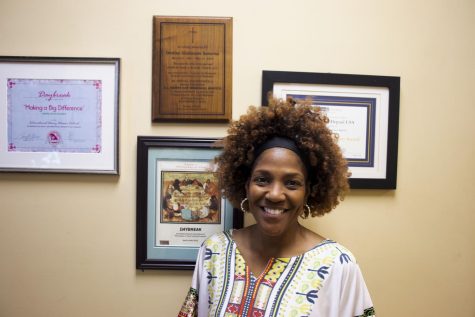 Lewis said a number of reasons can cause someone to be homeless but most of the people she meets ended up  in that situation because of a lack of resources and affordable housing. 
"There is probably a 3-4 year waitlist to get section 8," Lewis said of the federal program aimed at housing support.
There is no real record on how many people are homeless in Macon and who is homeless. Lewis said that she believes homeless men outnumber the women. 
According to the 2022 Point in Time homeless census, nearly 70 percent of those counted nationally were men.
Lewis said she notices a lot more African Americans at Daybreak.
She also said some people come here from prison because after they get out as they are released with nowhere to go. 
"We've had police officers drop people off to Daybreak and say here you go," Lewis said. 
Rev. Jake Hall, who is director of United to End Homelessness, said there are different types of homelessness.
"So these are people who've had multiple seasons of homelessness, whose experience of homelessness is not a rarity, that is a routine or cyclical part of their life," Hall said. 
Hall said that chronic homelessness extends for a long period of time, often more than five years.
Hall also said some of the chronically homeless don't ask for or want assistance. Hall said the man also refused help, even when a hurricane was coming.
"If someone says no, you want to respect their agency, absolutely, Hall said. "But also at some point, was he well enough to have agency over whether or not that was a safe space for him? Probably not. It's a complex question."
Hall said the man, who was identified as Arthur Parrish after his death, had been a celebrated educator in his town. Hall said they learned he was very active with the peace movement and that he had a psychotic break.
"And so we had those that require more from us collectively, like Arthur," he said.
Hall then said you have people that are situationally homeless. He said that this is due to any host of life happening the wrong way such as a big medical bill, a job loss, a foreclosure or an eviction.
Hall said veterans are another big demographic of those who are homeless. The 2022 Point in Time count noted there were more than 33,000 homeless veterans or 6.8 percent of those who were counted.
Hall says another growing demographic is adolescent homelessness, that demographic is 18-24 year olds. 
While the PIT count is a baseline the government uses, Hall says this count is not a complete number. 
"The PIT count is an attempt but it's definitely just like, it's a floor not a ceiling of what we're dealing with," Hall said. 
He said he is trying to have the county implement a service-based count. Instead of counting homeless people only once a year like the PIT count, they try to do an ongoing set of practices where they build a list of everybody experiencing homelessness and accessing services for the housing insecure. 
During a recent visit to Daybreak, a few people in Macon who are housing insecure shared their experiences and some of the barriers they see to being permanently housed.
Robert Fuller
Age: 57
From: Macon
Robert Fuller lost his apartment and job during the Covid-19 pandemic and has been living out of his truck and sometimes out in the open. Despite his current situation, Fuller has continued to help others and offers advice to people in similar situations to himself. He believes that one of the biggest issues facing the homeless community is mental health.
Allen Camp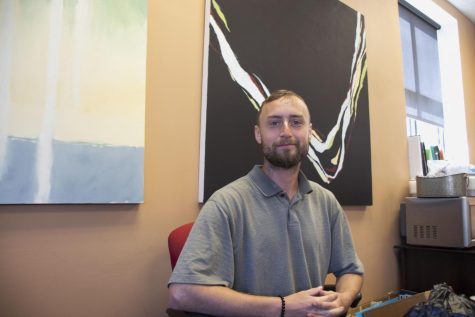 Age: 20
From: Centerville, Georgia
After his mother died, Allen Camp was living with his grandmother for two years but moved out and headed to Macon. After being homeless for six months, he is now receiving help from the State Supplemental Disability Insurance, has begun looking for a part-time job, and now has a place of his own. He feels that some unhoused people do wish to better their situation like he has, but others are content with the life they have right now.
Sean Stephens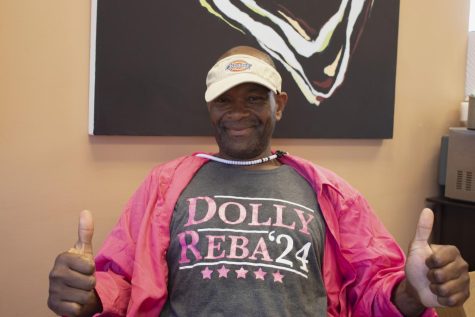 Age: 50
From: Macon, Georgia
Sean Stephens has been volunteering at the Daybreak Center for three years. He lives in a boarding house but prefers to use Daybreak for his mail. He has worked in Macon's food service industry and said he likes focusing on a task. In his experience, many of the homeless are homeless by choice, but it still is hard for them to obtain stable housing. He thinks the biggest issue facing many with obtaining stable housing is competition with people moving into Macon and a lack of funds.
Sharon Massey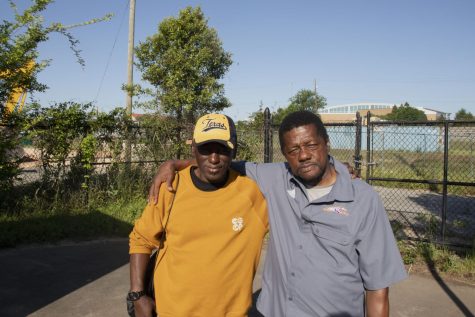 Age: 56
From: Los Angeles, California
Sharon Massey is an Army veteran from California. He has been in Macon for some time and decided to move here because it was closer to his family. He said he did two tours in Afghanistan. While he is not homeless himself, he said he does frequent the Daybreak center often and finds one of the biggest hurdles for the unhoused here in Macon is transportation.