Artists who you may not know are influenced by Macon Native, Little Richard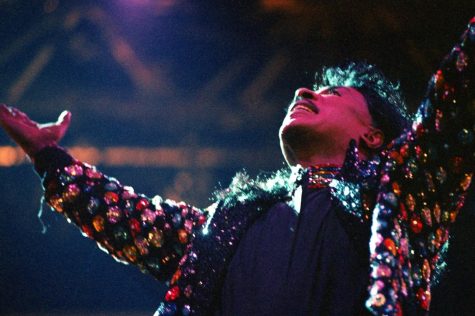 Macon is known for its rich music history, with stars such as the Allman Brothers, Otis Redding, Little Richard, and Jason Aldean, just to name a few. 
What you may not know is that Macon was also the birthplace of the camp, flamboyant gender fluid styles of musicians today. 
According to Vogue Magazine, in the 1950s, "ideas about gender were hard-coded into clothing, [Little Richard] flouted the rules."
Little Richard often wore sparkles, capes, brocade tunics, crop tops, and vests to accentuate his performances; despite facing raging homophobia from the general public; inspiring the wardrobes of other music greats Elvis, David Bowie, Prince, Elton John, Micheal Jackson, Mick Jagger, and Jimi Hendrix. 
Little Richard's style influence can be seen even today in these eight musicians, who often facing criticism similar to what Little Richard endured despite society's progressive actions since the 50s when according to Pitchfork, Little Richard became "a proto-innovator of the glam and glitter rock scenes."
Adam Lambert
"Whataya Want For Me" singer Adam Lambert rose to fame in 2009 when he became a runner in season eight of the televised singing competition "American Idol." In 2011, the Grammy-nominated artist became a touring and recording vocalist for the band Queen. Lambert has graced the stage since his time on "American Idol" not only with flashy outfits but with dark eyeliner and makeup, much like Little Richard.
2. Bad Bunny
Benito Antonio Martínez Ocasio, known as "Bad Bunny," is a Puerto Rican rapper, singer, actor, and wrestler who rose to fame in 2016 after releasing the single "Diles."Bad Bunny told GQ Magazine in 2022, "I don't put a gender label on clothing." He is much like Little Richard when it comes to charming the stage, and red carpets, with typically feminine styles like skirts, dresses, and sheer fabrics and other pieces typically described as "feminine."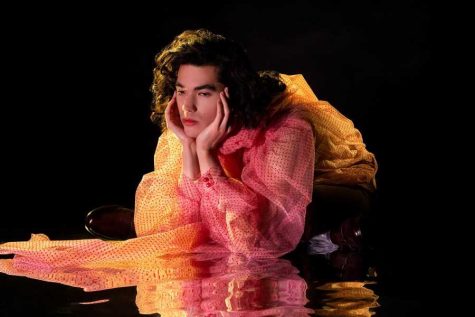 3. Conan Gray
American singer /songwriter Conan Gray went viral on TikTok in 2020 with his song "Heather." Gray's gender-fluid looks took shape in 2022, around the same time his third album, "Superache" dropped. He is one of the stars today who continue Little Richard's signature incorporation of capes in his outfits like his pink Coachella stage look, or Met Gala carpet look, both designed for Gray by Maison Valentino.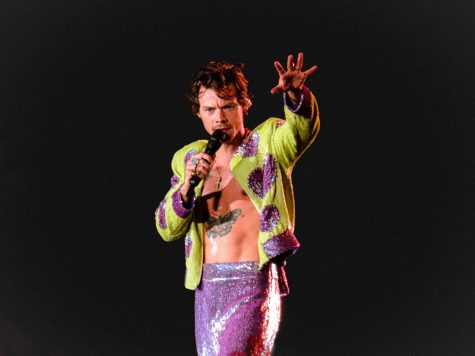 4. Harry Styles
Harry Styles' stage-wear became more exuberant in the rise of his solo career following his debut, "Harry Styles" in 2017.  This new fashion forward Harry began wearing a collection of colorful, sequin, and patterned suit, paving his way to becoming the first male on the cover of American Vogue. Like many others on this list, Styles also wears skirts and dresses, but in 2021, Styles started donning shirtless looks, including vests suited similarly to the way that Little Richard had done. 
5. Lil Nas x
Singer, songwriter, and rapper Montero Lamar Hill, known as "Lil Nas X," is from Lithia Springs, Ga, only an hour and a half from where Little Richard was born. In 2019 Lil Nas X featured Billy Ray Cyrus in his viral song "Old Town Road," raising the Georgia native in popularity. Lil Nas X's style since his chart topper has been a melody of bedazzled, colorful western wear, sequins, skirts, dresses, patterns, and Little Richard-esque fringed jackets. In 2022, Lil Nas X was ranked the number one most stylish musician by Rolling Stone. The same year at the Video Music Awards, Lil Nas X walked the red carpet in an oversized feather skirt-like ensemble, complete with a headpiece designed by Harris Reed, something never seen on a red carpet of musicians that Little Richard would be proud of.
6. Måneskin
Little Richard's worldwide impact extends to the Italian rock group, Måneskin. Consisting of Damiano David, Thomas Raggi, Ethan Torchio, and Victoria De Angelis, the group became known for their viral cover of "Beggin" by Franki Valli and the Four Seasons and their reign as Eurovision champions in 2021. With four albums since 2017, the four piece embrace the title of glam rockers wearing eyeliner and smokey eyeshadow looks that accentuate their dark, stagewear that features sequins and patterns. Like Conan Gray, Måneskin frontman Damiano David has worn capes, a motif in many of Little Richard's stage looks.
7. Orville Peck
South African born but Canada-based Orville Peck, is a country music singer and songwriter. His persona is one of a mystery musician who wears a fringed mask, with much of his identity unknown. Releasing music since 2019, Peck has assembled a collection of not only eye-catching masks but flamboyant stage wear consisting of fringe and sequin embellished suits reminiscent of Little Richard.
8. Sam Smith
Sam Smith, a British singer and songwriter, became famous after being featured on Disclosure's song "Latch" in 2012. The four-time Grammy nominee, who is non-binary and goes by pronouns "they/them" told Pride in 2022 why it was not until more recently that they started to embrace a nonconforming style matching the way that they were feeling inside. Smith recalls being assaulted for wearing makeup on his way to work in their early 20s and afterward reverting to a simple, makeup-free style. Since hiring a stylist, Smith is more comfortable in themself and their clothes than ever, with looks including sequin jumpsuits, lace, sheer tops, skirts, dresses, bold colors, feathers, and even fishnet tights.