Alpack-a your bags, alpaca farms grow as an agricultural attraction.
Just outside of Macon and down a gravel path, you'll see an alpaca crossing sign. A herd of alpacas make up part of the draw at Yellow Rock Farm– an example of a growing industry in Georgia. 
When agriculture and tourism are combined, agritourism is born. Agriculture is Georgia's leading  industry and tourism follows behind in fifth place. For many agriculture producers in the state, combining the two seems like a no-brainer. Georgia's agritourism ranges from you-pick gardens and vineyards to alpaca farms. 
Paul and Linda Cardwell own Yellow Rock Farm. They raise alpacas and llamas and have a three-acre garden where they grow luffa, figs, blueberries, and other vegetables.
 "Everyone calls it a farm but it's really a homestead… We are a registered farm in the state of Georgia but we could live off of this property except for fuel and taxes" Cardwell said.
"You take what we call agricultural attractions, they [farmers] work to bring visitors to their farm through the attractions…A lot of people don't realize the diversity of agricultural attractions," Cheryl Smith, Georgia Grown agritourism manager said. 
As Georgia Grown's agritourism manager, Smith's  duties in this role include facilitating Georgia Grown tours, assisting businesses in being added to the Georgia Grown registry, and working as a spokesperson for the industry. Smith also gives agritourism presentations to communities and organizations.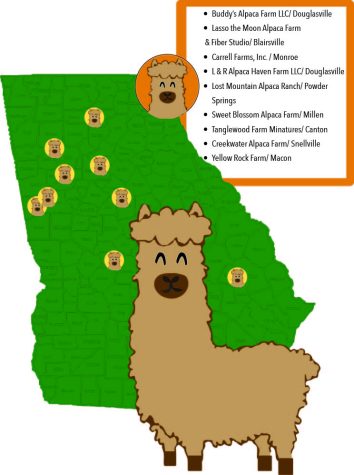 Her role has allowed her to interact with alpaca farms across the state. Most of the Georgia Grown alpaca farms are located in North Georgia. Yellow Rock Farm is one of the few farms raising alpacas in Central Georgia. 
Cardwell said it was his wife Linda's idea to look into raising alpacas. Cardwell attended a seminar at a Carolina Alpaca Breeder show in North Carolina. The seminar posed the question "Can you really make money with alpacas?" The Cardwells left the conference with alpacas of their own.
Cardwell said they initially started the show route with their alpacas but soon realized the shows were not very lucrative. One of his alpacas, properly named "Miss America" had a successful career as a show alpaca.
"My wife and I decided …  if we're gonna do it, it's gonna be a business," Cardwell said. 
Without the designated building, they have sold alpaca socks made in Charleston, SC homemade dryer balls, alpaca yarn, goat's milk soap with luffa at markets. The Cardwells hope to re-enter into markets next year, they have taken the past three years off due to COVID-19 virus and the building of their new house.
"It's education plus business, if they [alpacas] don't pay for themselves we can't…afford to just feed animals," Cardwell said.
Yellow Rock Farm hosts farm tours – of which alpacas are the visitor favorite.Tours are by appointment only. Cardwell said he and his wife have plans to open a store to accompany their farm.
Alpacas are a non-traditional picture of agriculture in Georgia. Alpacas are native to South America and are widely known for their wool. According to Zoo Atlanta, there are two breeds of alpacas; Huacaya and Suri. Huacaya is the more common breed of alpacas and has denser short hair that can be described as "teddy-bear" like. 
Yellow Rock Farm has Huacaya alpacas and llamas. The animals  provide an educational opportunity during Yellow Rock Farm tours. Cardwell is able to show and tell visitors about the differences in stature and demeanor of the two animals. 
Cardwell's llamas can serve as guard llamas for the alpacas, due to their larger stature and protective demeanor. The llamas now work with Cardwell's four Anatolian Shepherds as "watch-dogs." Yellow Rock Farm is located near the Bond Swamp Refuge, which hosts a slew of wildlife that could pose a threat to Cardwell's livestock. In the past, Cardwell lost three alpacas due to a panther attack.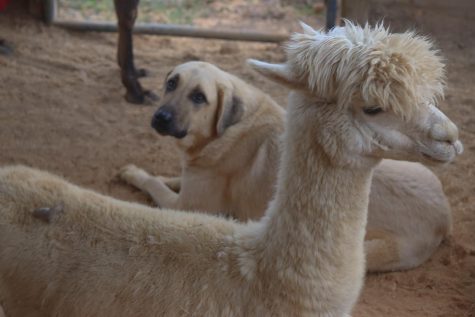 "There are losses in all agriculture, agritourism makes up for some of it," Cardwell said.
Alpacas' presence in Georgia is larger than one would assume. According to Georgia Grown, a division of the Georgia Department of Agriculture, there are nine alpaca farms listed as Georgia Grown members including Yellow Rock Farm.
"They [alpacas] may not be indigenous to this area, but they live on the farm, and they do all the things that farm animals do. They eat, they sleep, they poop," Smith said. 
As the alpaca presence in Georgia has grown, many are divided as to whether they are exotic animals or livestock animals. Alpacas are widely known for their cuddly appearance but Cardwell said the animals are registered as livestock. 
"They're livestock, they produce great babies, great fiber, or they produce great meat," Cardwell said. 
Cardwell has been an advocate for the inclusion of alpacas into Georgia agriculture, specifically their recognition as livestock.   With the help of Georgia Grown Executive Chef Holly Chute, Georgia Grown representative Happy Wyatt, and former Commissioner of Agriculture Gary Black, alpaca meat was approved to be processed under the Georgia stamp. Cardwell doesn't raise his alpacas for their meat but said they would previously have to be sent out of state to be processed.
From her agritourism perspective, Smith has seen breweries and distilleries in Georgia grow the most. But this is not discouraging for alpaca farms, as Smith predicts agritourism of all kinds will continue to succeed in Georgia.
"It's the sense of discovery that people experience when they go to a farm. They take a tour and learn something that they didn't know before or have a new experience with their family, it creates memories," Smith said. 
Smith believes the draw of agritourism goes deeper than an outdoor activity, it's the opportunity to see who is behind the agritourism industry that pulls visitors in and keeps them coming back. Smith said farmers are the most engaging people. 
"I know if you meet a farmer they're pretty unforgettable and they are genuine. People gravitate toward that," Smith said. 
For agritourism opportunities to visit an alpaca farm or other agricultural attractions, the Georgia Grown website includes an easy-to-use agritourism registry. To book a tour at Yellow Rock Farm visit their website or call Paul Cardwell at (478) 338-0101.