The Dark Necessities of Jim Crow Macon: Green Book Sites Visualized
Dr. Douglas Thompson speaks on the history of "Green Books," the popular motorist guides that helped Black Americans travel during the time of Jim Crow racism. Audio story by Kendall Webb. 
In 1936, postal worker Victor Hugo Green and his wife Alma S. Duke traveled from Harlem, New York, to Richmond, Virginia. Despite driving through hundreds of miles of backroads, Green and Duke had no safe place to stop on their journey. 
As Black travelers, legal segregation and racial discrimination meant they may not find safe or welcoming places to stop, eat, and lodge along their travels.
This was the experience of many Black travelers across the U.S. in the early-to-mid 20th century and led Victor Hugo Green to create the Negro Motorist Green-Book, commonly known as the "Green Book." The Green Books were published annually from 1936 to 1967 and became a resource for families who could travel by car.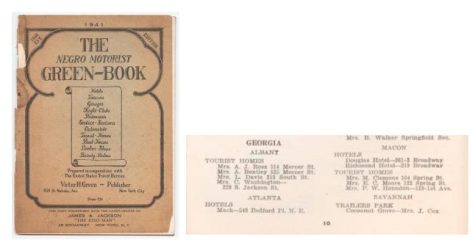 What are the Green Books?
Green, a Harlem-based postal carrier, created the annual book to provide safe traveling stops for African Americans during the Jim Crow Era. At the time, leisure was becoming more popular in the U.S. But as African Americans began to enjoy new opportunities to travel, they were met with segregation restrictions. 
Green saw the need for a document that would provide safe places for African Americans to pass through on their travels and places to congregate. 
Green used his experience and advice from his fellow postal workers to publish the first Green Book in 1936, and it focused mostly on New York area travels. As demand for Green Books increased, he worked with the National Association of Letter Carriers to broaden the project to a national scale.
In Green's introduction to the 1948 Green Book, he wrote, "There will be a day sometime in the near future when this guide will not have to be published. That is when we as a race will have equal opportunities and privileges in the United States. It will be a great day for us to suspend this publication, for then we can go wherever we please and without embarrassment."
"You Can't Jim Crow a Car": Travel and Segregation in the 1940s 
A national economic boom after the depression meant more Americans could purchase cars than ever before. Labor Unions successfully reduced work days to five days per week, giving people free weekends. As a result, travel and leisure in the U.S. boomed. 
However, travel was meant for white Americans. In the time of Jim Crow, segregation laws made traveling and finding lodging, especially in the South, extremely difficult for African Americans. 
"You can't Jim Crow a car," but "you can Jim Crow the roadways," said Dr. Douglas E. Thompson, who is an associate professor of history at Mercer University and director of the Southern Studies program at Spencer B. King Center for Southern Studies.
"It was not uncommon for African Americans to travel and know that they had to sleep in the back of their car," Thompson said. "The power of segregation in sleeping accommodations was much stronger." 
African American families would pack a picnic for their trip because eating at restaurants meant the risk of being treated unfairly or not served at all.
Before the interstate system was developed, back roads were the only means of vehicular travel. This put Black drivers at the mercy of local sheriffs, so an oral network of safe routes was created.
This oral network was put into document form with Green's guide. 
Macon sites and the legacy of Charles Douglass 
Macon was one of the places in Georgia with several sites in the Green Books, and Black entrepreneurs owned many of them. According to Billion Graves, Charles H. Douglass (1870-1940) owned the Douglass Hotel and the Douglass Theatre in the 300 block of Broadway Street in Macon. The Douglass Hotel was in the Green Book once publication expanded beyond New York until to when Green ended publication.
"[The Douglass Hotel] was put together by Charles Douglass, Mr. Douglass, who is the most significant Black entrepreneur in Macon, [he] had amassed some wealth in a variety of things, partially entertainment, but on hotels, food, stuff like that," Thompson said.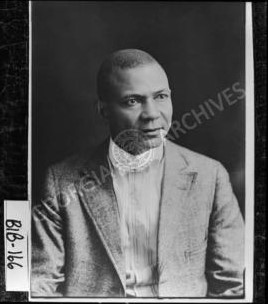 Douglass was a known businessman who created his businesses for African American patrons. According to the Digital Library of Georgia, he was also a leader in Macon for equality. According to Billion Graves, he was a Theatre Owners Booking Association member and was manager of the Florida Minstrels and Comedy Company. 
Douglass owned real estate throughout Macon, and his residence was on Pine Street. Douglass's services were for African American patrons only in Macon– something rare in America at the time. Of Douglass's two successful businesses, only the Douglass Hotel was documented in the Green Books.
The Douglass Hotel and Theatre still stand today; although the Douglass Hotel is no longer in service as a hotel, the Douglass Theater was restored and welcomes all patrons.
The Douglass Hotel, located at the current address, 373 Broadway St., was a hotel Douglass created for Blacks only during an era when a safe place for Black Americans to lodge was rare.
"The burgeoning Black hotel industry: it's small, but it did exist. And he [was] one of them," Thompson said.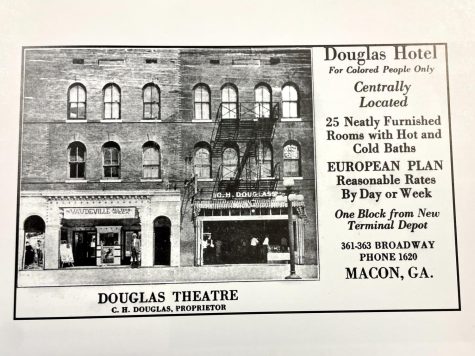 In addition to the Douglass Hotel, the Richmond Hotel was the other safe place for African Americans to stay in Macon. Little information about the Richmond Hotel is available, but it was located beside the Douglass Hotel.
Where are the 1940s Green Books Locations Today?
In 1949, the names of Macon streets were changed, and the City Directory from that year displays the old and new addresses. The photos below show what the current Macon sites from the Green Books look like today. 
139 1st Ave. was the residence of Mrs. F.W. Henndon. 1st Avenue became Speer Street, but there was no record of the house address. The location could not be found during the search and is not pictured below.  
On the Map
The Macon Green Book locations were in close proximity to one another in downtown. Thompson said that redlining in Macon in the '40s and '50s was incredibly prevalent, which explains the nearness of the locations. Redlining is a discriminatory practice that occurs when loans and other financial services are denied to customers based on race or ethnicity, resulting in the segregation of neighborhoods. The term comes from a time when predominantly Black communities were labeled as red on government maps.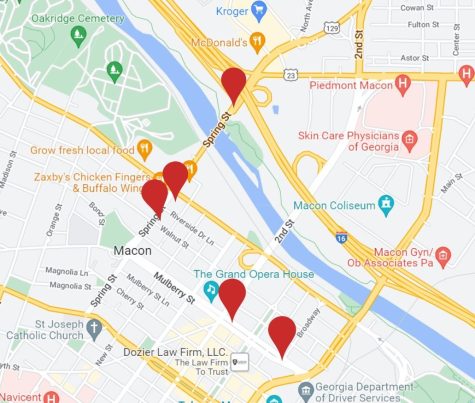 "The majority of the downtown residential space had been redlined as non-valuable property," Thompson said.
As downtown Macon became more congested, people moved to other outside areas of Macon, such as Forsyth Avenue and Ingleside Village. White residents moved away from urban areas and into suburban neighborhoods, known as white flight.
This is why buildings such as the Douglass Hotel and the Douglass Theatre were so significant at the time. They provided a new leisure and entertainment hub for the Black community in Macon. They were instrumental to the growth of the arts and local businesses that contribute to Macon's uniqueness.
During the years the Green Book was published, Macon has as many as 15 sites listed in the annual guide. When publication ended, there were four Macon locations still listed, including the Douglass.