Edwards named new Macon-Bibb fire chief during first meeting of 2022
Commissioners accepted more than $4 million in grants to help the homeless, improve downtown airport and Carolyn Crayton Park.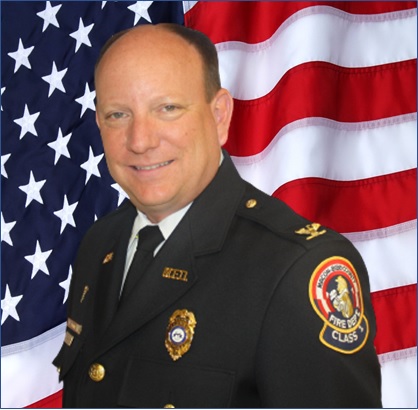 More than a year after the retirement of Macon-Bibb County Fire Chief Marvin Riggins, Mayor Lester Miller announced Shane Edwards bested more than 30 other applicants for the job.
Edwards has been serving as interim chief since January of 2021 after Riggins' departure that came at the end of 2020 as Miller was taking office.
Miller said he thoroughly reviewed all the applications, including some from Macon-Bibb County firefighters, and looked at all the "good work" Edwards has done as interim chief.
The county is about to build a new training facility and has added a third shift to the firefighters' schedule to bring the department in line with others across Georgia.
Commissioners also accepted and allocated more than $4 million in grant funds for programs to assist those experiencing homelessness, aid the Macon Judicial Circuit, build a new food bank, work on the Macon Downtown Airport and make lighting improvements to ballfields at Carolyn Crayton Park.
Commissioners also selected Seth Clark to retain his position of mayor pro tem. Clark then nominated Commissioner Paul Bronson to stay on as the third member of the Committee on Committees with Clark and Miller.
Miller also announced a change to the meeting schedule for 2022. The charter only specifies one monthly meeting, but commissioners have been holding regular meetings on the first and third Tuesdays at 6 p.m. and the Committee of the Whole was meeting at 9 a.m. on the second and fourth Tuesdays.
Going forward, commissioners will hold a pre-commission committee meeting before their regular meeting on the first Tuesday at 6 p.m. That change will allow them to give final approval to non-controversial appointments and other items that same evening. Anything that requires further debate could be assigned to the second Tuesday morning committee meeting. Final approval for those items passed in committee could come during the third Tuesday evening meeting.
Miller will reserve the fourth Tuesday of the month for work sessions or site visits, he said.
The commission will still hold four meetings a month, just over three days instead of four.
The following compilation of tweets sent during Tuesday morning's meeting provide more insight into actions taken during the first committee meeting of the year.