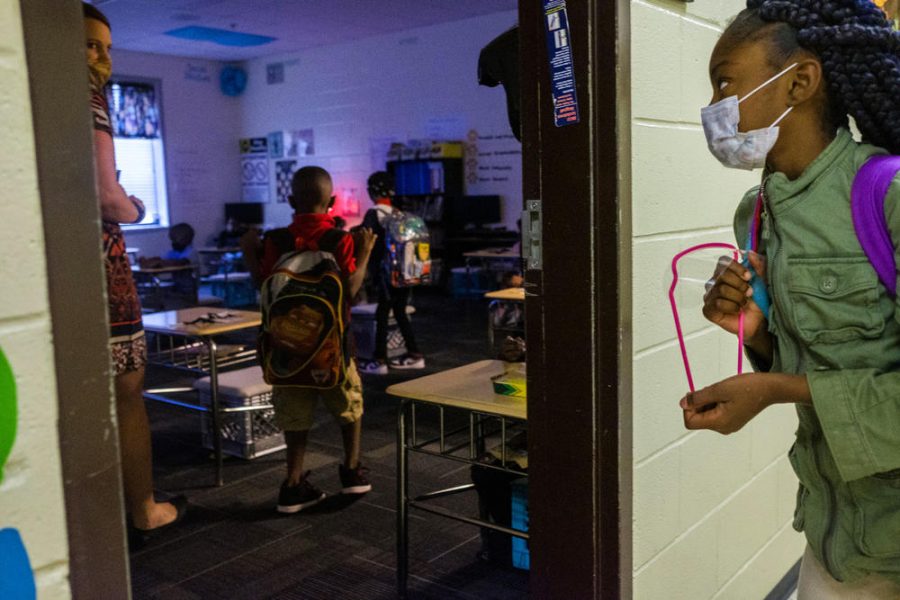 Grant Blankenship/GPB News
The Bibb County School District declined in enrollment by more than 15% over the past decade which could mean fewer dollars for schools here in the future.
For now, federal and state dollars it received during the pandemic have helped delay tough financial decisions it could face in coming years.
There are currently 21,159 students attending Bibb County public schools, about 3,800 fewer than 2010, according to the Georgia Department of Education. Enrollment numbers are submitted to the state twice every year in March and October.
"We believe in some ways it has to do with lower birth rates and with the migration patterns of when people move to Georgia from other states they went to the metro (Atlanta) area," Bibb County School Superintendent Curtis Jones said.
The 2020 Census indicates Bibb County's population declined slightly but the number of school-aged children here remained about 26,000, roughly 400 fewer than 2010. Birth rates nationwide started declining in 2008 during the recession, according to a Pew Research study.
Bibb schools projects enrollment will continue to decline in coming years. The 2022 budget estimates a total of 19,904 students by 2024-2025.
Charter schools have played a role in a changing student population. The district saw the sharpest decline in enrollment in 2019, when Academy for Classical Education, then a local charter school, became a state charter school. The change meant the school's enrollment, which totalled 1,699 in March 2019, no longer counted toward Bibb County's student population. It also meant students from outside Bibb County were eligible to attend.
ACE opened in 2014 and was the school district's top performing school before its state charter was approved. About 69% of students enrolled at ACE are white, the inverse demographics of Bibb County schools, which are 77% Black.
Another state charter school, Cirrus Academy, has 541 students enrolled, an increase of about 16% since it opened in 2016. The student population at Cirrus is 92% Black.
Jones said the state legislature has made it advantageous for charter schools to come under state control instead of local control by increasing state funding per student and requiring fewer accountability measures.
THE UPSIDE TO DECLINE
One positive byproduct of declining enrollment is smaller class sizes.
"Small schools create that easy feel that people like, and so people know each other. I think that has helped with our students being able to learn more to create better relationships," Jones said.
On the other hand, students leaving each of the 12 grades across 35 schools makes it a challenge for the district to appropriately reduce teaching positions.
Jones said the district is not looking to consolidate more schools as it has done over the last decade, but other changes are not out of the question.
"I would anticipate that you will see over the next five years or so a rezoning of schools to try to get them more in balance and to get them back to where we think we can better control where people are teaching kids," he said.
The district is also exploring the possibility of building a new elementary school to accommodate growth on the south and north sides of the county.
!function(){"use strict";window.addEventListener("message",(function(e){if(void 0!==e.data["datawrapper-height"]){var t=document.querySelectorAll("iframe");for(var a in e.data["datawrapper-height"])for(var r=0;r