Macon water bills going up after public's crash course in stormwater
Macon Water Authority explored further delay in stormwater fee collection to allow for more education
Come Jan. 1, Macon Water Authority residential customers will be charged a new $4.99 a month surcharge for stormwater services.
Although the rate was set last year after Macon-Bibb County relinquished control of the stormwater system, the public is beginning to bombard authority members about the so-called "rain tax."
When taking over stormwater management, the authority decided it would not collect for services until 2022. Now, two months away from the new year, authority chairman Sam Hart was worried the public is not well enough informed.
"I see we have two choices: to accelerate the education or we have to talk about the delay," Hart said during Thursday night's meeting.
Recent concerns about a lack of awareness of the new fee prompted some authority members to consider waiving it into 2022. The stormwater operation already racked up a deficit of $5 million dollars this fiscal year clearing, repairing and maintaining 400 miles of pipes, 800 miles of ditches and 18,000 stormwater structures like drains.
The authority has been "self-funding" stormwater operations by loaning money from the Water & Sewer entity.
Macon Water Authority Executive Vice President of Business Operations Guy Boyle expected this year's shortfall and budgeted for it. He cautioned against extending the grace period and continuing to make up the difference internally.
"What I feel my duty is just to inform you. Can you do it? Yeah, we're in good, solid financial shape. Should you do it? From a business perspective, No," Boyle said of extending the waiver into 2022.
More financial obligations to cover stormwater on the Water & Sewer side, until customers started paying, would limit future spending options for the authority, amass more debt and delay internal loan repayments and interest, Boyle said.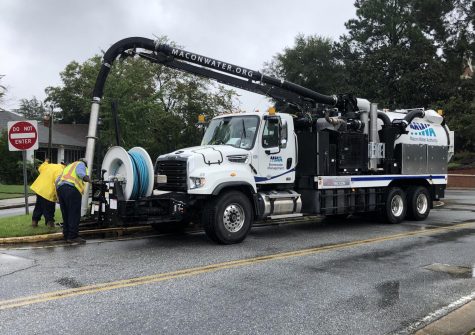 The service fee charged to residential and commercial customers is expected to fund 78 percent of stormwater management expenses. The remaining 22 percent comes from SPLOST funds earmarked for stormwater.
In addition to the $4.99 per month from households, non-residential users also pay $4.99 per every 2,200 square feet of impenetrable surface on the property. The bill will run in the tens of thousands of dollars for some of the largest customers. Stormwater credits are possible for retention ponds and other preventive measures taken. Information on how to apply is posted on the authority's website.
Macon Water Authority staff have been contacting industries, schools and businesses, but Hart feels more is needed.
"We still need to educate the public in terms of what this is… or else we're going to have one holy situation when it comes time to collect this money because I think people are galvanizing and getting together to form opposition to what we are doing," Hart said.
The chairman admitted the board doesn't have a good base of knowledge when it comes to explaining how to apply for stormwater credits or understand the nuances of what is considered private and public drainage systems.
Macon Water Authority District 2 Board Member Desmond Brown said there is a lot of confusion about what the authority is managing and what is the responsibility of the property owner.
"Nobody knows what we can touch and what we can't touch," Brown said. "We need to stop saying we're taking over stormwater and say we're taking over public stormwater because to say we're taking over stormwater is too broad a topic, and people are not trying to distinguish between public and private when they've got water coming across their property."
David King, project manager at Barge Design Solutions that has been helping the authority launch the stormwater utility, said all of that information is spelled out in the authority's guidebook.
A longer delay in implementing fees to provide enhanced stormwater management education would result in an additional loss of $2.25 million per quarter or $9 million per year.
Macon-Bibb County Commissioner Bill Howell, who represents the county on the authority along with Commissioner Valerie Wynn, does not want to delay generating revenue that would allow the stormwater utility to be self-sustaining with no additional loans.
"We can spend $500,000 extra dollars educating the public and get them up to speed a whole lot better than we can leave $2.25 million on the board," Howell said.
Lisa Golphin, the authority's senior executive of strategic planning, explained the multiple facets of stormwater education that are already underway.
They met with key customers from December to August, trained customer care staff on how to respond to inquiries, issued news releases, held a news conference about the transfer of stormwater management from the county and have been publishing information in Currents, the authority's newsletter.
The latest edition of Currents spelled out the program in greater detail and generated the calls the authority members mentioned. Bill inserts and letters also are going out.
The information rollout was designed to have the most impact on the public closer to billing them, Golphin said.
Detailed information also is available in the Stormwater Management section of the Operations tab on the website and in an introductory video.
Commissioner Wynn did not think scheduling community meetings was the best way to proceed.
"Public meetings may only touch a few people," Wynn said. "Put it where people really look, on television and social media."
The authority agreed to allow Golphin to draw up a budget for additional education measures over the next two months. They will consider allocating funds during a called meeting Tuesday to announce the new executive director and president who will succeed Tony Rojas, who retired last spring.
–Civic Journalism Senior Fellow Liz Fabian covers Macon-Bibb County government entities and can be reached at [email protected] or 478-301-2976.