Macon architect to renovate alleys for kids using Downtown Challenge grant
Wimberly Treadwell has not just watched downtown Macon evolve, she has played a role in its growth. The landscape architect designed well-known Macon spaces like the Coleman Hill slides, the plaza between the Tubman Museum and the Georgia Sports Hall of Fame, and parts of High Street Park.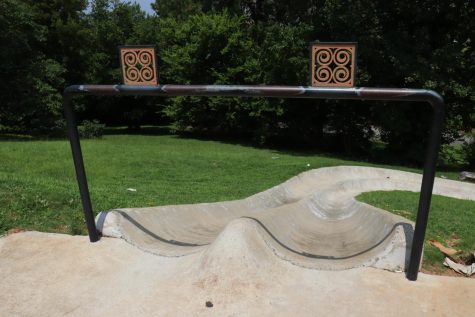 Treadwell still sees one piece missing from Macon's downtown areas, though, and it is an important one.
"One of the big challenges is to find kid friendly activities downtown and to figure out how to program safe spaces for kids," Treadwell said.
Treadwell plans to help solve this problem by using her new Downtown Challenge grant to turn downtown Macon alleyways into spaces where children can play games. Treadwell was awarded the $10,000 grant for her "Play Paths" by the Community Foundation in June.
"We're going to have a call for artists and they're going to tell us what we can do, but we may do some of the things that I loved as a kid," Treadwell said. " Where's Waldo, iSpy, you know."
Treadwell said the artists will have creativity with the Play Paths they create on the alleyway ground, but there won't be moving parts or dice for the games. Activities like "Where's Waldo" will help keep kids entertained and make it easier for families to go downtown.
The exact alleyways to be renovated have not been finalized because organizers want the artists to have input on which areas are used, according to Treadwell. She suspects they will use lit alleyways near businesses, which are spaces she has experience with.
"I started by lighting the alleys years ago and it became so popular, you cannot imagine," Treadwell said. "That parking lot went up behind Theater Macon and we lit up that alley, and people said, "I'm having so much fun going to the theater, we can see!'"
Lighting the alleys was meant to improve foot traffic, according to Treadwell, which begs the question: How will the Play Paths improve the quality of the alleys for pedestrians?
As it turns out, Treadwell says the children's games will have more value than meets the eye.
"In the alleys, we've got big potholes that are pretty unsafe, and I've explored for a year or more how to patch these potholes," Treadwell said. "Well, the best patch that will stay is asphalt, but asphalt is unattractive…so we're going to paint it."
Treadwell said the asphalt will patch the uneven areas and the paint used to design the games will cover up the unappealing look of the repaved potholes. The paint has already been successfully used to repaint Columbus Street.
"Some of the restaurants can put cafe tables up and parents can go grab a beer or whatever," Treadwell said. "We're going to do a couple outside of Fall Line, for example, where there's lots of adults anyway."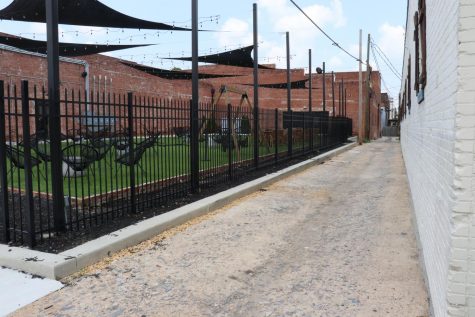 Treadwell has worked to revitalize downtown with grant money before in the form of Macon's Master Signage program in 2020. Both projects reflect an effort in her industry to change the attitude surrounding landscape architecture.
"Today's landscape architects are really working harder to embrace and engage the community," Treadwell said. "Instead of going somewhere and saying 'Oh, this is what you need,' they go to the client and really have to work through. You have to figure out how you're going to involve the community."
Treadwell's landscape architecture has benefited the community, but she wasn't always destined for that type of design. Macon's community has her father to thank for her career choice.
"My dad would make me draw details when I worked in his office, and I did not like details. I thought I'd be drawing windows for the rest of my life," Treadwell said with a laugh. "So I said 'No, I think I like landscape.'"