All about podcasts and music for kids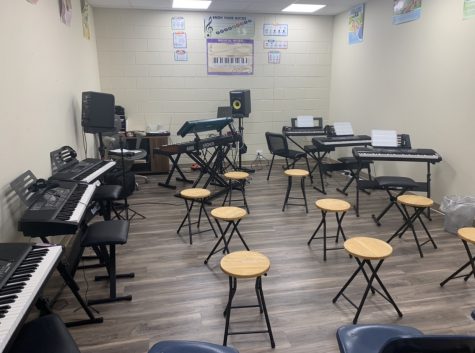 From recruiting 70  students to be a part of a local church's chorus more than twenty years ago, the Jordans never thought they would have their own foundation.
This year, The Eric Foundation received a $19,675 grant from the Community Foundation as a part of the Downtown Challenge to create a lab to teach students about podcasting, radio and music. 
Couple Shirley and Anthony Jordan started The Eric Foundation in December 2018 to develop a creative arts program for youth that are at risk or economically disadvantaged. Jordan wants all students to have the opportunity to build on their dancing, theatre, and musical talents through the foundation. 
"My thing is to give children an opportunity that you would think would never have the opportunity," said Shirley Jordan, "because either they can't afford it, or they don't have the transportation to get to these different locations." 
Starting out, the foundation rented a classroom in the Booker T. Washington Community Center and created a small lab with individual keyboards to teach music and vocal skills. The Jordans would have to go to each individual student to instruct and provide guidance. They didn't have a way to instruct the whole class on the software at once. 
With the grant, they can now purchase equipment for their lab, including a Yamaha keyboard system, where the instructor can teach lessons and communicate with students through the keyboard system. While both instructor and students have headphones on, the instructor can hear them playing and work one, two, or all eight students at the same time. The system is teacher-friendly, according to Anthony Jordan. 
Another major feature that will be offered is a podcasting kit that comes with receivers, 3 microphones, and interface systems to teach the students how to edit and record podcasts. Dr. Tonya Coons and Andreas Cooke will teach podcasting and radio as part of the new lab. 
Shirley Jordan wanted to add podcasting to The Eric Foundation's programs to give kids an opportunity to speak on issues and share concerns that they might have. 
"I feel like every child has a voice," Jordan said. "We always hear negative things going on with our children, but a lot of times we don't get the positive perspective of what's going on with our children." 
The Students' finished podcasts or radio segments will be available to the public on the Booker T. Washington Community Center and The Eric Foundation social media's pages. 
Any student aged 6 – 18 can participate in this program. The lab is located at Booker T. Washington Center and is open during the center's regular 9-5 hours. 
According to Shirley Jordan, the foundation plans to have a Christmas Production Concert on December 11 for the kids to show off their singing and music skills. 
For more information about the foundation and upcoming events, visit Booker T. Washington Community Center facebook page and http://www.ericfoundation.net. 
View Comments(1)