Fights, investments and cardboard: how sports cards have exploded
What is your most prized possession? Chances are that item is not a piece of cardboard. Maybe you just haven't found the right baseball card yet, though, since some of them can be worth millions of dollars.
"He's lucky I didn't sleep with the thing under my pillow," Charlie Heinisch said to a customer in his sports card store. "It was amazing."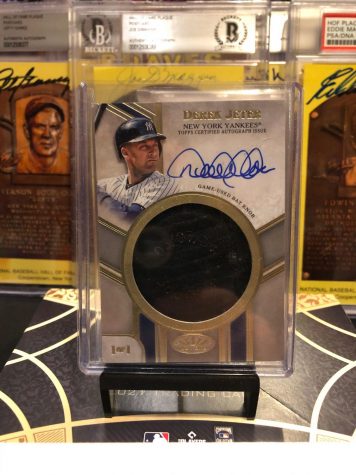 Heinisch is referring to a specific baseball card he held for a customer at one point, one that has the knob of a Derek Jeter bat in it and also features Jeter's autograph. Only one copy of the card was ever printed, indicated by a stamped serial number reading "1/1."
While this Derek Jeter card is quite literally one-of-a-kind, sports cards in general have become a hot commodity over the past three years, according to Heinisch and others in the industry. 
Heinisch is the owner of Middle Georgia Sports Cards and Collectibles in Warner Robins. He opened his store with his wife Lisa in 2015, but says the growth in recent years has been substantial.
"Last year was 2020 and it was a crazy year," Charlie said. "When we first opened up, we were told we wouldn't last six months. Now we've been going strong for six years."
The shop has been fueled by a resurgent interest in sports cards due to older sports fans returning to a childhood hobby. People collect certain players, entire sets from certain years and various other specific cards. Charlie has been doing it since 1979, and his wife Lisa said it's the reason the store has stayed open.
"That's why I feel like we've had the most success, because of his passion for the hobby," Lisa said. "Since '79, you know, that's a long time to have a passion for something. That's why we have survived many years being a hobby shop."
Investing in cards
While many of the people Charlie meets in the store are fans of baseball or basketball and collect as a hobby, cards are also attracting a new type of interest in the form of "investing."
"There are a lot of people in the hobby right now that are treating it like a day trading scenario," said Joey Shiver, a freelance writer for sports card publication Beckett Magazine. "There is a big section of the hobby that spends a lot of time 'investing' in cards."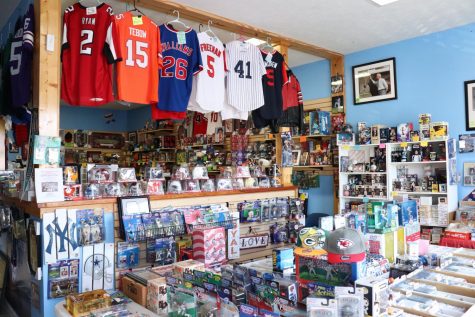 Shiver says this consists of buying rookie cards and prospect cards of players that are still developing in hopes that they become superstars. Rookie and prospect cards are more valuable because they are often the first card produced of a certain player.
Mike Trout, one of baseball's most successful players, had his rookie card printed in 2011. He was not successful at the time so the card was not sought after, according to Shiver. A basic Trout rookie card, with no autograph or serial number, recently sold for over $850. A signed, 1/1 serial-numbered Mike Trout prospect card sold for $3.9 million last year.
Just like any investment, however, these cards can just as easily plummet in value.
"I remember the days of Todd Van Poppel, Kevin Moss and all these guys that were studs," Shiver said. "So many guys have a lot of hype coming in."
Shiver says that Van Poppel and Moss were two baseball prospects whose cards were highly collected in the early 1990s. Neither one ended up being big league stars despite their hype, and the cards of both sharply declined in value.
Shiver and Charlie both acknowledge that there's a problem with 'investing' now, though. People outside of the hobby buy players' cards for exorbitant prices before the players even reach the major leagues.
"Everybody wants to have that 2011 Mike Trout before he becomes Trout, but they're paying Trout prices," Shiver said. "The reason that card has value is because it's hard to find… he was a relative unknown [in 2011]. Now everyone in the hobby pulls a Jasson Dominguez and puts it in a toploader (protective case), 10 years from now that's not going to be a hard card to find."
Jasson Dominguez is one of the recent prospects to attract lots of attention in baseball and among baseball card 'investors.' He has been signed to a contract by the Yankees and recently had a card sold for $15,000.
Dominguez turned 18 in February of this year and only recently played his first ever game in an affiliated MLB organization.
"There's a lot of people that do this, and they don't even know what they're buying," Charlie said. "That's what scares me."
The effects of investing
This type of investment, with the pipe dream of a $3.9 million payout attached, has changed the sports card industry. Sports cards became increasingly hard to find at stores like Target and Walmart during the pandemic of 2020 due to the high demand.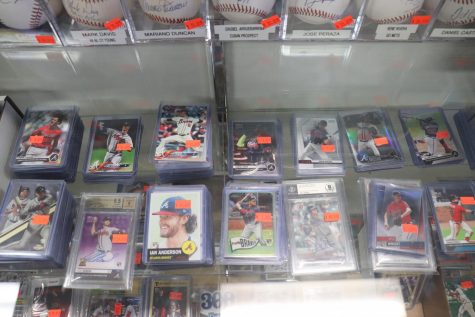 "The reason you can't find the retail stuff is because it's a perceived shortage, not a real shortage," Charlie said. "Folks… decided to go buy a bunch of blaster boxes ($20 boxes of cards) from Walmart and make a living out of selling them on the market."
With the cheaper baseball cards gone from Targets and Walmarts due to buyers reselling them on eBay, the only option left for buying baseball cards are very expensive hobby boxes.
"I bought a hobby box of Select football [cards] for $150 [in 2017], that's what the [$20] blaster box costs now," Shiver said. "Now the hobby box costs $1200."
With hobby boxes now the only easily obtainable options, the hobby of collecting cards is appealing more to adults and less to kids. Charlie and Shiver both think this may be a problem for the future.
"We may see a gap of cards not getting bought because there's not enough kids buying it," Shiver said. "Kids feel alienated because they're not having products available to them."
"It's like putting candy at the counter in Walmart, there's a reason it's at the register," Charlie said.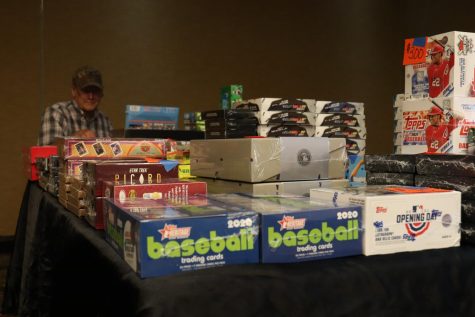 The pieces of cardboard that were originally put into the spokes of children's bicycles are now sparking public conflicts. A fight occurred outside of a Target in Wisconsin over sports cards. One man in the fight was armed with a gun. Target stopped carrying sports and Pokemon cards soon after the fight.
Both Shiver and the Heinisches think that the prices will return to normal, but the market continues to boom. Regardless of investors, though, there are still kids and adults alike who enjoy the hobby because they're sports fans.
"I collect them because my dad likes them, then he showed them to me," Thomas Cranford said. "We're Cubs fans because of my grandma. My favorite player is Anthony Rizzo."
Thomas was by far the youngest person at a card show organized by Charlie Heinisch in Macon last week, a middle school-aged kid in a sea of adults. His Cubs shirt was also noticeable among the sea of Braves memorabilia at the event, acting as a sign of the team he collects thanks to his inherited fandom. 
A customer came into Middle Georgia Sports Cards during the Heinischs' interview to ask about buying sports cards and ended up talking to Charlie and Lisa about favorite baseball teams. To Charlie, this is the thing that keeps the store rolling and keeps his passion for the hobby.
"It's when customers come in and they're more excited to have a shop to go to than I am to have a shop," Charlie said. "That's the best part."