Soul Food Drives to Cherry Blossom Festival
The city of Macon is a beacon of soul, so it's only natural that a soul food truck found success at Macon's 2021 Cherry Blossom Festival. When one orders from Soul Truckin Good, they can taste the passion that husband and wife Carl and Jei Johnson put into their full-time food truck.
For Carl Johnson, the name for his restaurant idea came to him in bed one day in 2015 and he had the resources to make his dream a reality.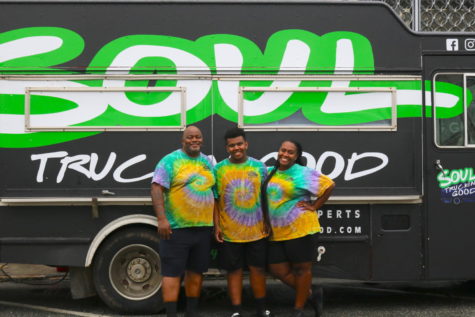 "One of my good friends is the hip hop artist MIMS. So I called him and he was like, 'What's the name?' I said 'Soul Truckin Good.' And he said, 'I like it. I'll invest in it," Johnson said. 
At the time, Carl and Jei were dating and got married in July of 2015. Jei Johnson was on the same page with Carl, so they decided to start Soul Truckin Good together. 
"We had moved from Maryland to here (Georgia) and we were not necessarily looking for 9-5 jobs. He (Carl) had a job, but was let go from the job. So it was like this is the best time to kind of jump into it feet-first," Jei Johnson said. 
It was not an immediate and linear rise to success, however. Both Jei and Carl had their doubts in the first year, but their belief in the idea worked out.
"We got to the point where we started looking for jobs. But, I think when I got a job offer and he got a job in transportation, we got our first catering, and it was enough to pay our rent," Jei Johnson said. 
The family, including their son Kyler, now works full-time at Soul Truckin Good. For Kyler, working the truck has brought an unexpected experience. 
"I actually really like the idea of a food truck. I never thought I'd be working at a food truck, but I do like it. They pay good, which is nice," Kyler Johnson said with a smile.